---

Are you running a site in production? I'd love to hear your story, become a guest.
Copied URL with current time.
Easily Find, Reproduce and Track Your JavaScript Errors with TrackJS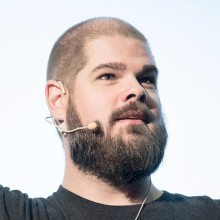 Todd Gardner
In this episode of Running in Production, Todd Gardner goes over how he built TrackJS. It's written in .NET and pulls together a number of different technologies to get the job done. It's all hosted on OVH using dedicated hardware and has been running in production since 2013.
Todd talks about how to track JavaScript errors in production, creating a data pipeline to ingest thousands of errors a minute in ~80 milliseconds, the benefits of pjax, how dedicated hardware ended up being half the price of cloud servers and using Ansible to configure all of the servers.
Show Notes
Links
Shameless Plugs
Nick: Want to learn Docker? Join thousands of others in my Dive into Docker video course
Questions
Apr 27, 2020
✏️ Edit on GitHub