---

Are you running a site in production? I'd love to hear your story, become a guest.
Copied URL with current time.
A Video Based AWS Certificate Training Platform Called Exam Pro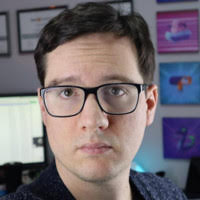 Andrew Brown
In this episode of Running in Production, Andrew Brown talks about how he and his team use Ruby on Rails to build an AWS certification training platform called Exam Pro. We talked about a huge range of AWS services and how they all come together to run and deploy his application.
They've gone all-in with AWS. Even their development environment is running on AWS using Cloud9 IDE. Exam Pro has been running in production since late 2018.
Show Notes
Links
Shameless Plugs
Nick: Want to learn Docker? Join thousands of others in my Dive into Docker video course
Questions
Nov 18, 2019
✏️ Edit on GitHub