---

Are you running a site in production? I'd love to hear your story, become a guest.
Copied URL with current time.
Openship Is a Shopify App for Drop Shipping and Order Fulfillment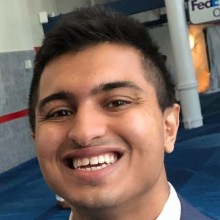 Junaid Kabani
In this episode of Running in Production, Junaid Kabani goes over how he built and deploys Openship which is a Shopify app that was written in Koa. The front-end uses React.
We covered a lot of ground in this episode, such as how Prisma, Apollo, Next.js and React all come together to build an app that uses Shopify's API. There's also quite a lot of details on the value of testing and how CI helps keep open source projects well tested.
Show Notes
Links
Shameless Plugs
Nick: Want to learn Docker? Join thousands of others in my Dive into Docker video course
Questions
Want to discuss this episode on Twitter? Tag @nickjanetakis or use #RunningInProduction
Dec 16, 2019
✏️ Edit on GitHub